Click Here to view More Content Writing Examples.
Main Keyword (in italic): Toyota
Secondary Keywords (in italic): Throughout Content.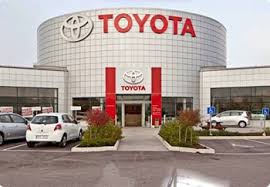 Toyota Motor Corporation is a Japanese multinational
Automotive manufacturer which has its headquarters in Toyota City, Aichi, Japan. The corporation is known As Toyota in short. The company was founded in August 28, 1937 by Kiichiro Toyota. Amazingly, Toyota can produce as much as
10 million vehicles a year.
Toyota was actually a spinoff to Toyota Industries which made
Machines. Sakichi Toyoda (Kiichiro's father) had started that
company. Both companies are now part of the Toyota Group.
Toyota learned from American automakers and other companies
After World War II. "The Toyota Way" (management strategy)
And Toyota Production System (manufacturing strategy) were born
In this era.
In the 1960's there was a rapidly growing Japanese economy.
Toyota sold to the burgeoning middle class. This lead to the
Development of the now famous Toyota Carolla which is known
As the all time best selling automobile.
Toyota took advantage of the booming economy to expand
internationally. It became the ninth largest company in the world
In terms of revenue as at Dec. 2020.
Toyota was praised as a leader in terms of the creation
Of fuel efficient hybrid electric vehicles. The Toyota Prius
Was the first of this kind of vehicle and that was introduced
In 1997. Toyota now has 40 hybrid vehicle models internationally.
Toyota Motor Corporation produces vehicles under five brands:
Daihatsu, Hino, Lexus, Ranz and Toyota. Toyota also has small
Stakes in other car companies like Subaru Corporation, Mazda,
Suzuki, Isuzu, Yamaha Motor Corporation and Panasonic.
Toyota is listed in the London Stock Exchange, Nagoya Stock
Exchange, New York Stock Exchange and the Tokyo Stock Exchange. It remains one of the most well known and respected car brands in
the world.
Click Here to view More Content Writing Examples.