Click Here to view More Content Writing Examples.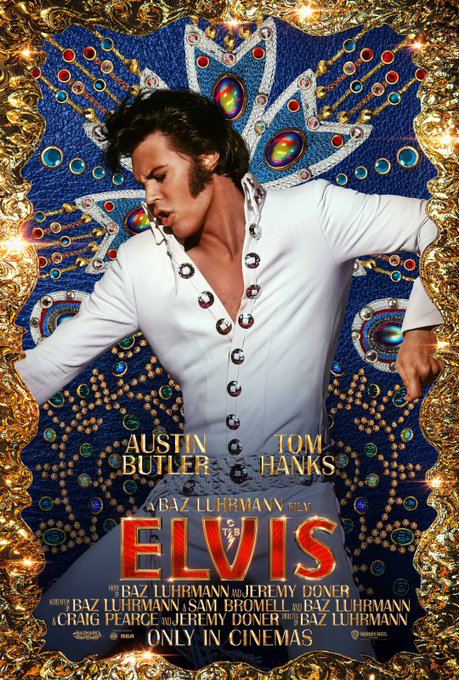 This movie is about the life and times of the talented and famous rock and roll star Elvis Presley. The super cast includes: Tom Hanks as Colonel Tom Parker, Austin Butler as Elvis, Olivia DeJonge as Priscilla, Helen Thomson as Gladys, Richard Roxburgh as Vernon, Kelvin Harrison Jr. as B.B. King, David Wenham as Hank Snow, Kodi Smit-McPhee as Jimmie Rodgers Snow, Luke Bracey as Jerry Schilling, Dacre Montgomery as Steve Binder, Leon Ford as Tom Diskin, Gary Clark Jr. as Arthur 'Big Boy' Crudup, Yola as Sister Rosetta Tharpe, Natasha Bassett as Dixie Locke, Xavier Samuel as Scotty Moore, Adam Dunn as Bill Black, Alton Mason as Little Richard and Shonka Dukureh as Big Mama Thornton.
The film begins with the Warner Bros. logo. and a song. We then see the Baz Luhrmann productions logo. We see Colonel Tom Parker trying to get a box of his photos. "I am the legendary colonel Tom Parker… I am the man that gave the world Evis Presley… yet there are some that make me out to be the villain of this story". Then we see News say that Parker received 50% of all the money.
"We cut to a casino crowd. Evis gets a shot with a syringe. Evis appears in turquoise gear with a cape. The crowd goes wild. We then cut to Parker in his hospital bed. 'I didn't kill him… I made him'. What a great way to introduce the primary characters of the story. You instantly get a taste of the inevitable demise of Elvis which is interesting"
Tom Parker says that as an orphan he ran away to the carnivale. He says "After the carnivale I moved into the music business". We cut to Parker speaking to some singers outside in the sun. They are listening to "That's alright momma". Parker is intrigued with the sound. We cut to the Louisiana Hay Ride performance. "That's alright mama" was played again and again on radio. Parker wanted to find out who the singer was. Parker then says Elvis's twin brother died at child birth.
"We cut to Elvis's childhood. Elvis lived in a neighbourhood with blacks. Young Elvis peeps into a house were there a couples dancing provocatively. Then he goes to a church service. He starts dancing to the music as if possessed. I was an Elvis fan and I didn't even know that about his past. It was an intrigueing fact that of course impacted on his sound and style."
We also cut to one of his first performances. Elvis is moving out back pre-gig. We then cut to him recording "Thats alright mama" at a studio. Then we see him start his show at the fair. We cut to him as a child dancing. Then announcer chats to Elvis. Elvis had makeup on, Parker said it was weird for the time. "Get a haircut fairy" says an audience member. Elvis is dressed in Pink suit. Elvis dances and moves his waist.
"The band notice that the girls in the crowd are reacting and want him to wiggle. The women go wild. Women scream. Elvis continues to dance. The girls want to grab him. Parker says 'Now i dont know nothing about music… but I know that girl was having feelings… he was a taste of forbidden fruit… she could have eaten him alive'. "It was the greatest carnivale attractiom I've ever seen… he was my destiny" says Parker. This is one of the best scenes in the movie. Baz uses slow motion real well here. The reactions of the girls felt real. It was when Elvis became "Elvis" so to speak!"
We cut to "Club Handy" and there is a black female singer singing Hound Dog. We cut to Elvis on the street with his guitar. "He was crazy for that Beale st style" said Parker. Beale st was a black neighbourhood where entertainers would sing live. We cut to Elvis at his home with his parents. Elvis wants to leave on tour with the Colonel Parker. His mother is worried because of the show and the shouting girls. "I'll call you every night" says Elvis to his mother. We cut to Elvis singing "Blue swade shoes" in his pink suit. Hank Snow was another singer but he was into slow ballads.
"We cut to another show where Elvis is wearing a white suit. Elvis tells his mother 'I stay in… it's lonesome'. But then we see girls entering his room repeatedly. We cut to a car ride were a roady offers Elvis drugs/a pill to pep him up. The beginning of his problems with drugs". In these early scenes we get a taste of the lifestyle that ended up ending Elvis's life. Baz wanted to introduce us to his world very early in the movie and it worked".
Elvis wants to record an older singers tracks. We cut to a carnivale.
"Elvis is leaning against a tent. In this scene we see Elvis as a young singer, fit as a fiddle. Very healthy at the start of his career. It's a simple scene. You probably want to remember Elvis in his prime as seen here. Austin Butler nails the Young Elvis accent! It is sad what was to come."
Elvis goes into a mirror maze. Parker says "Elvis is lost, he is in a maze". But Parker literally helps him out. They both go on another ride on the ferris wheel. Parker chats to him "We can be great together… I need to represent you… exclusively". Parker says the older singer wants Elvis out of the crew. Parker wants his own label. Elvis had a girlfriend that he explained that he cant have a girl for his image, she cries. Parker makes Vernon Presley (Elvis's dad) a manager. Elvis signs a contract.
"Are you ready to fly Mr Elvis?". We cut to recording Studio and Elvis has to move and dance. The radio announcers say that Elvis is singing hit after hit. We cut to Parker saying that He is selling merchandise: pillows, toys, knick knacks. There is even a toy that says "I hate Elvis". Parker even profits from the haters hehe. We see here that Tom Parker was all about the money. Elvis laughs. We cut to a TV set showing Evis singing Hound Dog.
We then cut to the Live performance. Elvis is jiving and moving. At another families house, the girls are hipnotized. The father turns the TV off. The News say that Elvis is vulgar and a delinquent. "Elvis the Pelvis… childish expressions" says Elvis. Parker wants Elvis to wears a black suit with tails. "He looks like a Butler" says the crowd. There is also a real hound dog on the stage hehe.
"We cut to Elvis chatting to his dad and mom in a new house. Elvis says "Mom you ain't never happy… no matter how much I give you". Elvis had a good relationship with his mother. She cared for him until her end"
He leaves and gets in his car. He drives to the main road with singing clubs. He has a new swanky car. Elvis gets out and signs autographs. He enters a club. Little Richard is playing. The club is packed. Elvis is impressed. Little Richard sings "Tutti Fruitti". Then a portly black woman sings. Elvis's friend says that he has a nice ride and that he should get his own label. "Too many people are making money around you for you to be put in jail" he says. Elvis is worried that he cant dress how he likes.
We cut to a board of leaders dicussing Parker and his past. They drive into a sports ground. "As long as you don't so much as wiggle a finger" a guard says to Elvis. Elvis wears a black suit with a red tie. He says "There's been a lotta talk about the New Elvis". He then wiggles his finger. We cut to a segregation rally then back to the performance. "I'm gonna show you what the real Elvis is like". He sings "I never looked for trouble… I'm made of flesh blood and bone".
"The crowd goes wild. He dances in his usual style. He crawls on the ground. The women go wild. He jumps into the crowd. They grab him. They have to rush him out. They push him into the car and quickly drive off. Here we get a taste of the crazy audiences that Elvis played to. He wanted to get that response from the female audience members. You can tell by the way he moved. There was also a safety issue after the gig finished. His adoring fans wanted to grab him hehe etc."
The law tells Parker that a lot of people want to see him in jail. Parker says to Elvis its either the Army or jail. Parker says "the army may be just what we need… let them cut your hair… you'll be clean cut". Elvis then went into basic training.
"Elvis's mother then passed. Elvis is in a room crying. Great acting by Austin Butler. Here we see a grown superstar turn into a little sobbing boy. Parker consoles him. "Anything that she would have done… I will carry on… when your overseas… I will be here" says Parker. "No matter what happens, you stay with me" Elvis says to Parker. Elvis responds by saying Parker is like a father to him. Great scene."
"My plan is that Elvis would return a clean cut American boy" says Parker. But Parker didn't count on Love. Elvis meets a general's daughter called Priscilla. "I never met anyone like you" says Elvis to Priscilla. We see them together in a room. They kiss. We cut to Paper News saying that Elvis wants to be in more serious films. Elvis has a baby girl. We see TV Ads of the movies "Viva Las Vegas" and "Romantic Fairtytale". Then he is in a tour bus. Martin Luther King gets shot and it makes the news.
"Parker says that Elvis needs to become a family entertainer. Now Austin Butler uses a more mature accent. Brilliantly done by Austin Butler. Priscilla says to Elvis 'I love you and your daughter loves you… sing the music that makes you happy'. The character of Priscilla could have been fleshed out further but I guess Baz was running out of time. Still, Olivia Dejonge as Priscilla gave us a solid performance."
We cut to the ageing Hollywood sign. Some entertainers are having a meeting with him. They jokingly say Elvis's career is garbage hehe.
"Elvis said after his mother died that he was lost. He wants to get his career on track. We cut to a television show, Elvis comes out in black leather pants and black leather jacket. He has a bright red guitar. There is suspense music playing. He then sings 'Heartbreak Hotel'. His voice is more mature. He is still fit and looks healthy. But his face has aged. Elvis had many years of looking presentable and stage worthy. It was only in his final years that he became over weight. You really feel for performers in general after this scene"
He sings "Hound Dog". Then "Jailhouse rock". Parker says it has nothing to do with Christmas. He doesn't have his christmas sweater on. The hippies that Elvis hired had cut the TV show with provocative footage. There was no christmas footage.
Parker is angry. There is news of President Kennedy being shot. Elvis was still performing. Parker wants Elvis to end the show with no speeches. Elvis chats to Parker. Parker jokes about his leather outfit. Parker needs the Christmas song to play at the end.
"Elvis says to the sound staff 'A reverend once told me, when things are to dangerous to say… sing'. This was beautifully said by Austin Butler. We learn that Elvis had a big heart.
The next day there is a christmas set. Elvis appears in a white suit. He sings "Were lost in a crowd… deep in my heart theres a trembling question… please let my dream come true… right now". The singing of Austin Butler is sensational. The TV special was a tremendous hit.
The hippies organise Elvis to play stadiums. We cut to Parker gambling. Parker had a gambling problem. He ran quite a tab. Elvis tells Priscilla that he doesn't need Parker anymore. Elvis visits the Colonel in hospital because he had a heart attack. "As far as business is concerned, we need to go our seperate ways" says Elvis to Parker. But Parker has another option. To play at a new international hotel.
"We cut to Elvis plans his backup singers and orchestra. We cut to rehearsals. Elvis is like the conductor. This is a very cool scene. We cut to love show. Elvis does Karate moves hehehe. He wears a white suit. He sings "That's allright mama… anyway you do". Of all the songs in this movie this is my favourite. So much energy. Once again Butler changes his voice to sound more mature, slightly wasted"
Parker is supposedly worried about Elvis's personal security (but he wants to keep Elvis in these local shows). Parker wants Elvis to stay in America. Parker had made previous deals that's why. We cut to Elvis performing in america with several coloured suits. "Eventually, he lost interest in going overseas" Parker said.
"They were making a lot of money. Parker said 'In the lonely moments between shows… he turned to pills'. Elvis was delusional sometimes. Priscilla wanted out. She says "Those god damn pills". "Do you still love me?" she asks Elvis. They split up. You get the feel that when Elvis wasn't performing that he wasn't alive. So he turned to drugs to keep him on that high perhaps."
Elvis says to Priscilla "When Im 50 and your 40… we'll be back together… you'll see" says Elvis. Elvis cries. Great acting by Butler. In the next show Elvis faints. They put his face in a bucket of cold water. Elvis's dad asks the doctor to help and he injects Elvis with a syringe to pep him up.
Elvis drinks from an audiences members glass and is drunk. He says Parker has debts and this is his last show. Elvis shouts that Parker is fired. The hotel show is cancelled. Parker gives Elvis's dad an invoice which is quite big. Elvis's dad says "we're broke". Austin Butler does a great performance h ere. "We are the same you and I… we are too lonely children chasing a dream… You can leave… but you will be lonely" says Parker. We cut to the Hotel Elvis sign been taken down. We hear "Are you lonesome tonight". Elvis then decides. Elvis tells his father "Tell him… I'll do it… and Colonel should sign up Dr Nick". It appears that Dr Nick had been supplying drugs in previous shows.
The News say that he does Las Vegas shows and is still popular. Elvis is now overweight. He has a meeting with Priscilla in an airport car. Once again Butler excells playing a new older version of Elvis. "Im all out of dreams" says Elvis. He whispers to her "I will always love you". He enters the plane and waves to his fans.
Then the News says "Elvis Presley dies at 42… dies of a heart attack". They say "He changed the face of popular culture". Parker then says love killed him. Love for you. In this final version of Elvis, Butler almost looks exactly like him. I think he sings unchained melody "I'll be coming home… wait for me". Then we cut to real footage. We see the real Elvis in his various suits. We see a final shot of Elvis in his turquoise suit. The announcer says "Elvis has left the building".
"What a roller coaster ride of a movie. Austin Butler (a relatively unknown actor) carried the film excellently. Austin portrayed the several ages of Elvis with the expertise of a seasoned actor and not a beginner. Voice, Look, Mannerisms and temprament were all done to perfection. Tom Hanks also put in a masterful performance as Colonel Tom Parker. I really enjoyed the conversations that Tom had with Elvis. Some would say that Tom Parker contributed to Elvis's demise but I think there were other elements involved. Olivia DeJonge as Priscilla did great with the few amount of on screen minutes she had. Elvis's dad played by Richard Roxburgh did great as did Helen Thompson as Elvis's mother. The scenes with his parents you realise that Elvis was just an ordinary son with extraordinary talent. Kelvin Harrison Jr. played singer B.B. King excellently. Alton Mason played Little Richard with flair. Finally my hat goes off to director Baz Luhrmann for putting it all together with his signature style."
I enjoyed the whole movie from start to finish. But I absolutely loved the earlier scenes where Elvis is developing his style by borrowing from the environment around him. The scenes of the crowd adoration I had seen before in old TV footage and it was done perfectly here. The set design and sound design was awesome. Come award season, I think Baz Luhrmann and the acting crew should get recognised. Enjoy the riveting 2hrs 39min.
Click Here to view More Content Writing Examples.